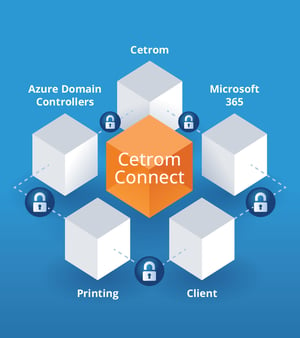 Cetrom Connect is a universal API technology that enables secure and reliable communication between networks over the Internet. With Cetrom Connect, Cetrom can securely connect your networks, including the Cetrom virtual desktop, Microsoft 365, Active Directory Domain Services, your local network, cloud printing, and more – eliminating the need for local onsite servers.

Between the desire to maintain a flexible hybrid work model, retain and attract top talent, FTC, GLBA, and IRS compliance standards and regulations, and more strict policies to qualify for cyber liability insurance, Cetrom continues to innovate and provide IT solutions to both meet and exceed security and compliance needs.

Compliance with FTC Safeguards Rule:

With the enforcement of the FTC Safeguards Rule on June 9, 2023, firms involved in tax preparation and any firm that has over 5,000 customer records on-premises or in cloud applications may face a whole new set of requirements and penalties. Firms with under 5,000 customers will want to note the 314.6 exceptions. Non-compliance can lead to fines of up to $100,000 or imprisonment for each violation. In addition, officers and directors can be fined up to $10,000 for each violation.

Cetrom Connect helps maintain your compliance with the FTC Safeguards Rule, GLBA, IRS regulations and avoid potential penalties through the following network security features:
Multifactor Authentication
Conditional Access for Authorized Users
Centralized Management of Workstations
Secure Data Accessed on Mobile Devices
Single Sign-on Between Cloud & Local
Eliminate Onsite Servers
Endpoint Protection
To learn more about Cetrom's managed IT services, including Cetrom Connect, please contact Sales@cetrom.com.