VDI services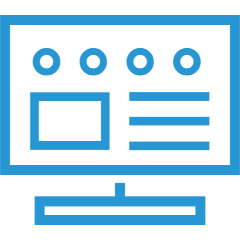 Whether you are telecommuting or traveling for a conference, having access to your organization's files and applications keeps you productive while away from the office. Cetrom offers a virtual desktop option, commonly known as VDI or Desktop as a Service (DaaS), which gives you the freedom to connect to the virtual desktop from any device, regardless of location.
This cloud-based remote desktop solution provides access to the same icons, applications, folders, and files available on desktop computers in your office. With just an Internet connection, you can either launch the virtual desktop from a single icon, or we can make it accessible through any web browser. This robust solution is completely secure because we store and execute virtual desktops directly from our servers, located in our U.S.-based data centers that meet top-tier security requirements.
Cetrom's virtual desktop solution is available at no additional cost over the standard desktop setup; it's a customization based on user preference.
Contact us today to discuss how we can develop a customized VDI configuration that meets your organization's needs.